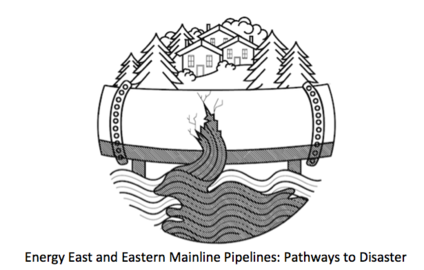 With news that TransCanada pulled its applications for Energy East and Eastern Mainline pipelines(link is external), the Harper era, pre Paris Climate Accord and oil at $100 a barrel, is over. Indeed, the fossil fuel future is rapidly drawing to a close. Much gratitude for all of the amazing people out there who worked so hard to achieve this major VICTORY.
As the Sierra Club Ontario (SCO) and Green Energy Campaign Chair, I would like to thank the many Sierra Volunteers who dedicated their skills, expertise, and countless hours to help shape our submissions on these proposals to the National Energy Board (NEB):
Louisette Lanteigne – Lead Pipeline Expert
Louisette is a Mi'kmaq Metis Acadian citizen advocate to secure concessions and cancellations of harmful projects, who helped us identify major environmental impacts of the two proposed pipelines. She is currently working to address the risks of Enbridge Line 9 and Line 10.
Find Louisette on Twitter: @lulex
Dave Rodgers – Lead Species-at-risk Expert
Dave is an aquatic biologist, toxicologist, and sustainable environment advocate. He helped us to identify top species-at-risk habitats along the Energy East and Eastern Mainline pipeline routes.
Find Dave on Twitter: @davedaverodgers
Mihaela Ceausu – Research Volunteer
Mihaela dedicates her time with us researching and writing about various energy-related issues, specifically relating to the impact of the proposed pipelines on Northern Ontario communities.
Find Mihaela on Twitter: @mcceausu
Michelle Gordon – Graphics Design Volunteer
Michelle is a freelance illustrator, designer, and blogger. She helped us create our Energy East and Eastern Mainline project graphics that have been displayed on our website and used in outreach material.
See Michelle's portfolio on her website: http://michelletheillustrator.com/(link is external)
Find Michelle on Twitter: @michelledgordon
Piruthuvi Thurairajah – Lead GIS Mapping Volunteer
Piruthuvi is a Master of Environmental Science graduate. She helped us create GIS maps illustrating areas where the proposed pipelines intersect with the Greenbelt, Rouge Park, and several endangered species habitats. She enjoys creating maps demonstrating Environmentally Significant Areas using ArcGIS and is interested in environmental planning to achieve sustainable outcomes.
Find Piruthuvi on LinkedIn: http://www.linkedin.com/in/piruthuvi(link is external)
Kevin Yang – GIS Mapping Volunteer
Kevin has an Bachelor degree in Earth and Environmental Science with a minor in GIS. He was happy to use his GIS skills to produce environmental impact maps that show areas where the proposed pipelines intersect with endangered species. He hopes to continue following his passion by doing environmental stewardship work.
Find Kevin on LinkedIn: https://www.linkedin.com/in/kevin-yang-env/(link is external)
Samantha Chu – GIS Mapping Volunteer
Samantha is a Candidate for a BSc. Environmental Science degree. Using spatial analytics, she helped us create GIS maps that illustrated the intersections between the proposed pipeline and major waterways near communities in Southern Ontario. Samantha has an interest in using GIS and graphic design to better understand and quantify environmental issues.
Find Samantha on LinkedIn: https://www.linkedin.com/in/samantha-chu-576a02126/(link is external)
Stephanie Hulse – Outreach Intern
Stephanie was our summer Environmental Outreach Intern. She helped us spread the word about our Green Energy Campaign and raised awareness about the harmful impacts of pipelines and nuclear energy on our health and environment.
Find Stephanie on Twitter: @stephhulse
Yvonne Ho – SCO Chapter Coordinator
Yvonne has a BSc. degree in Environmental Science and a Masters' degree in Environment and Sustainability. She helped to coordinate various components of the campaign – from recruiting and managing volunteers to coordinating tasks and timelines, to handling communications for the project.
Find Yvonne on LinkedIn: https://www.linkedin.com/in/yvonneho168/(link is external)
As the lead representative in Sierra Club Canada Foundation and SCO's intervention before the NEB, I plan to continue with SCO's Green Energy campaign and Sierra's community-based projects. But I am stepping down as SCO Chapter Chair, since elected as President of the Green Party Riding Association - University Rosedale, with plans to engage in the upcoming provincial election on June 8, 2018.
In the end, TransCanada knew the projects couldn't withstand a fair review of the true economic, environmental and climate impacts and the social difference community outreach and mobilizing can make.
Onward.
Christine Elwell