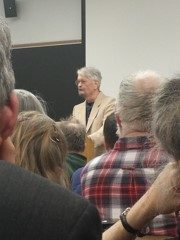 John Bennett and I have shared a lot of experiences over our forty years of environmental collaboration. Our friendship with Bob Hunter was an important one for us both. We were pleased and honoured to be asked by the Hunter Family to give the year's lecture on Thursday April 14th at the University of Toronto.
The Environmental Movement, Yesterday, Today and Tomorrow, our lecture title, provided the lead in for John and me to cite the progress of the Canadian movement over the course of our four decades of activism, the changes to our environmental reality and how the movement has responded over that time.
John and I framed our observations through the lens of our own work. Our first hand campaign experiences and occasional victories provided us with the opportunity to tell our personal stories in the context of the critical environmental problems we were confronting through all of those forty years.
A highlight cited by us both was our 1998-2000 Sierra Club work to bring the binational Canada-United States Air Quality Agreement into the multi-organizational effort to convince Ontario to ends its burning of coal to generate electricity. The culmination of the work of The OntAIRio Campaign was our success in influencing the February 2000 agreement of the Canadian Government to match the tough new US pollution reduction order for their coal plants.
Addressing the present, John and I noted the accomplishment of the environmental movement in creating awareness of the crisis and global commitments to solve it. As a community, Canadian environmentalists have just survived the determined campaign of our Government to eliminate us as organizations. In the midst of this, the recent comments of Dr. David Suzuki, accusing the environmental movement of having failed in our mission are unfair and unhelpful. I made the point that environmentalists had accomplished much in the face of a rapidly expanding global environmental crisis and governmental resistance to address this reality. I find it sad and ironic that Dr. Suzuki is denying his own and our accomplishments to date, achieved with scant resources and in the face of official oppression. This is not the way to rally us to renewed effort, David.
The Robert Hunter Memorial Lecture is an important contributor to the continuation of Bob's work. The Hunter family has successfully established the lecture as an annual spring gathering of environmentalists to share and discuss our combined effort on behalf of Planet Earth. Bob's legacy rocks on.
Big thank you to Danny Beaton for inspiring us with his opening greeting and blessing to us all as we work to defend Mother Earth.