Executive Committee
Dr. Jill Bueddefeld, Co-Chair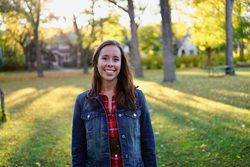 Dr. Jill Bueddefeld is currently a post-doctoral fellow in the Faculty of Kinesiology, Sport, and Recreation at the University of Alberta in Edmonton, Canada. Her research explores how people learn in nature-based contexts and how that learning can be translated to behaviour change. Specifically, she specializes in free-choice learning and evaluation. Having grown up on a small grain and oilseed farm in southern Manitoba she believes people are an important part of landscapes and seeks to find ways to help people live more thoughtful, intentional, and sustainable lives.
Jasmine Luong, Treasurer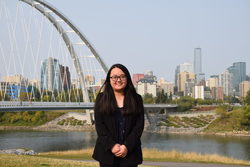 Jasmine Luong is currently an undergraduate student at the Alberta School of Business with a major in Accounting and she is excited to join the team as Treasurer! Her interest in environmental issues increased during her first year of university as she became involved with Sustain SU at the University of Alberta. Through this experience, she was able to learn more about her interest and passions in the area which also contributed to her eventual involvement with this team. Through her background in accounting, this new opportunity served as the perfect bridge between her interests in accounting and environmentalism. Outside of her classes, Jasmine loves being involved with different student groups and finding opportunities to meet new people.
Lauren Markewicz, Bylaws and Policy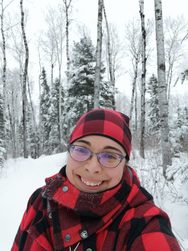 Lauren Markewicz is a public historian who has come to specialize in the history of bison. She is the author of Through the Storm: Canada's Bison Conservation Story, a book dealing with the twists and turns of the history of bison conservation in what is now Canada, in both images and text. She has worked at various historic sites and natural areas in Western Canada. She likes to spend time on the landscape, hiking and camping, and thinking a lot about the human relationships with and impacts on the land and the other creatures that live there.
Michelle Murphy, Co-Chair
Michelle Murphy is a PhD student and research assistant at the University of Alberta with an interdisciplinary background in biology and environmental history. Her current research interests include conservation and recreation issues, parks and protected areas, and the human dimensions of wildlife conservation and management. Michelle is also a board member with the North Saskatchewan River Valley Conservation Society (NSRVCS) in Edmonton. Outside of school and work, Michelle enjoys dog-walking, hiking, horse-riding, and cross-country skiing.
Jared Wolfe, National Prairie Director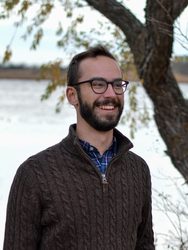 Jared Wolfe is an aquatic ecologist with an interest in exploring how the interaction among science, policy, and management can promote sustainable water resources. He has a Masters of Science in environmental biology from the University of Regina where he studied the impacts of oil development and climate change on northern lakes. He is currently based at the University of Saskatchewan's Global Institute for Water Security in Saskatoon. Here, he works with scientists and practitioners to manage research projects that address water-related challenges in the Canadian Prairies. As a result, he actively liaises with water managers from government, industry, and non-governmental organizations across the Prairie Provinces on environmental issues. He also conducts research on prairie pothole wetlands and how to balance wetland ecosystem service production within an agricultural landscape.

When approaching wicked environmental issues, he places strong emphasis on collaboration and providing an open space for dialogue. In particular, he has experience facilitating discussions on water management with diverse stakeholders and is an advocate for meeting people within their watersheds. In his spare time, he enjoys being outdoors in his garden or birdwatching in Saskatchewan's many wetlands.
Staff Members
Paulina Retamales, Edmonton Area Wild Child Project Coordinator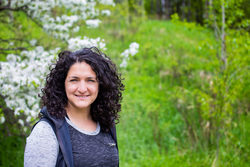 Paulina Retamales is the Edmonton & Area Wild Child Project Coordinator. She has a Bachelor's in Education from Chile, and a Master's in Recreation & Leisure Studies from the University of Alberta. She is an outdoor educator and trained Master Naturalist, with a strong environmental ethos and extensive experience working with children, youth and adults. Paulina has taught outdoor education courses for the past 10 years and feels passionate about connecting children to natural areas and encouraging others to be active participants of the outdoors. She is a proud mother of two children and enjoys spending time with them exploring the river valley.
Contact Paulina at edmwildchild@sierraclub.ca