Lake Diefenbaker Irrigation Project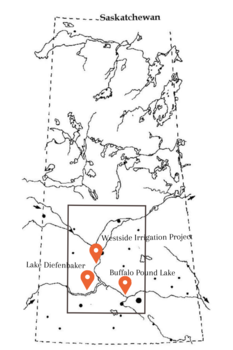 In July 2020, the Saskatchewan government announced a $4 billion dollar investment to expand Saskatchewan's irrigable lands by 500,000 acres through Lake Diefenbaker. We are concerned that this major development is going ahead without properly consulting impacted First Nation groups or that the whole project is subjected to provincial or federal environmental reviews. The project poses many concerns for the environment including degrading water quality, water quantity, emit greenhouse gases and impact indigenous rights. Important habitats for fish species like lake sturgeon in the South Saskatchewan River and Bigmouth Trout in the Qu'appelle River will be impacted. The irrigation development area contains many Important Biodiversity and Bird Areas (IBA). This includes nesting sites for Eared Grebes and Black-crowned Night-Herons, and internationally endangered Piping Plover. Large-scale irrigation would also increase land-use pressure to convert native prairie for agricultural purposes as well as incentivize wetland drainage to accommodate irrigation equipment.
This project will have an environmental cost. All we ask is that the project takes these into account and mitigates these impacts.
We ask that the project undergo federal review for an Environmental Impact Assessment to adequately mitigate environmental impacts.

We ask that governments

immediately begin consultations with potentially impacted First Nations and métis nations before further planning for this project moves forward.

Undertake an interprovincial assessment of water availability and water demands of the South Saskatchewan River and include climate modeling in the Lake Diefenbaker

Irrigation Project
Raising Awareness of Agricultural Drainage
The Prairie Pothole Region (PPR) spreads through southern Alberta, Saskatchewan, and Manitoba in a series of shallow wetland 'potholes'. This area alone is responsible for supporting up to 50% of North America's populations of waterfowl species. Wetlands in the PPR are extremely important feeding, breeding, nesting, and migration stop-over grounds to thousands of birds every year including landbirds (songbirds), waterfowl, shorebirds, and waterbirds.
Drainage practices in Canada are the cause of habitat degradation of 70% of the PPR, with 40% of wetlands having been drained for agricultural use. According to a report by Ducks Unlimited Canada, more than 29,000 acres of potholes are lost each year due to human use and land degradation.
The costs of wetland drainage go far beyond the financial ramifications associated with the upkeep of draining practices and are more closely tied with the costs that wetlands incur in ecological, social and cultural value. Throughout Saskatchewan alone, wetlands are responsible for the major role they play in ecotourism and human recreational activities with areas throughout the rest of the PPR relying on wetlands for production, their role in forestry and wildlife conservation programs.
Wetlands serve numerous important ecological roles, from maintaining water quality through filtration and water storage features, sustaining wildlife biodiversity, replenishing aquifers, acting as a natural flood control mechanism, and carbon sequestration.
Conference
We help host yearly conferences with multiple partners to raise awareness of wetland drainage.
Wetland drainage and its impacts on biodiversity in the prairie and parkland region of Canada, Dr. Kiel Drake
The Indigenous Views of Farmland Drainage Impacts, Heather Bear, Fourth Vice-Chief, Federation of Sovereign Indigenous Nations (no video available)
What Makes An Environmental Effect Cumulative - Dr. Jill Blakely, Associate Professor, U. of S.
Bush, Sloughs, and Grass Making Room for Wildness, Trevor Herriot
Quantifying Carbon Sequestration in Wetlands and the Impact from Farmland Drainage, Murray Hilderbaugh
Sources of Nutrients and their Impacts to Water Quality in the Qu'Appelle River Watershed, Alice Davies
Farmland Drainage Hydrology - More than the draining of wetlands, Bob Halliday
Regulatory Framework underlying wetland drainage in Saskatchewan. A case study using the Quill Lakes and Peatland Harvesting, Patricia Farnese
Wetland Drainage bioaccumulation of methylmercury MeHg in aquatic ecosystems, Dr. Britt Hall
An Introduction to Farmland Drainage in Saskatchewan, Jeff Olson
Getting Outdoors
Saskatchewan is home to many diverse eco-zones. From the grasslands to prairies to the northern boreal, the province boasts of a variety of landscapes.
We value getting outdoors and believe that the best way to advocate for the environment is to nurture a relationship with nature.
We host group walks and hikes during the summer months. All events require pre-registration and that you are responsible for your own equipment. Contact prairiechapter@sierraclub.ca if you're interested in joining us.