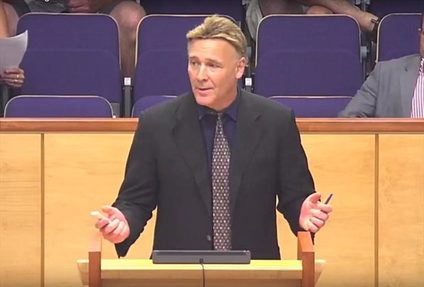 (Niagara's official plan policy consultant, David Heyworth. Photo: The St. Catharines Standard)
The Niagara Region has embarked on a new three-year process to develop a new Official Plan. What hinders this path, possibly to ruin, is that it is heavily influenced by a peculiar type of environmental stakeholder: consultants in the pay of developers.
In the past the Niagara Region had a formally constituted Environmental Advisory Committee (EAC); unfortunately, this was abolished recently on the grounds that it did not meet frequently. It was subsequently replaced by informal consultations with various "environmental stakeholders". These stakeholders remained anonymous and no minutes were ever taken.
These anonymous "environmental stakeholders" have been joined with the equally secretive "agricultural stakeholders." Discussions have by-passed the Niagara Region's Agricultural Policy and Action Committee. Their members are known. The committee's deliberations are public and recorded.
What makes the process of developing a new plan so ominous is what the Niagara Region's Planning Consultant, David Heyworth identified as the number one concern of the "environmental stakeholders." At the July 5, 2018 presentation to the Niagara Regional Council, Heyworth identified woodland mapping "as a major concern by many." One notable issue was regarding the process by which significance is determined for emerald ash borer infected forests. Heyworth told council that the impacts "of analysis and options for identifying and mapping woodlands" would be highlighted during the development of a new plan.
Currently in its official plan the Niagara Region, using provincial government criteria, includes mapping of what are termed "Environmental Conservation Areas" (ECAs). With regards to these ECAs, there are restrictions in place which require an Environmental Impact Study to be conducted before any site alteration can take place. These studies may, according to discretion of the Niagara Regional Planning Director, be subject to a peer review.
A look into the goals of the "environmental stakeholders" can be seen through the work of the Niagara Falls Planning Department, guided by Savanta, environmental consultants of developer, GR Canada. They are urging that ECA lands in the Thundering Waters Forest be developed on the grounds that green ash decline will destroy these forests' ecological significance, making way for invasive European Buckthorn. Furthermore, these less-than-noble ambitions were supported by the covering up of crucial correspondence with the Ministry of Natural Resources and Forestry.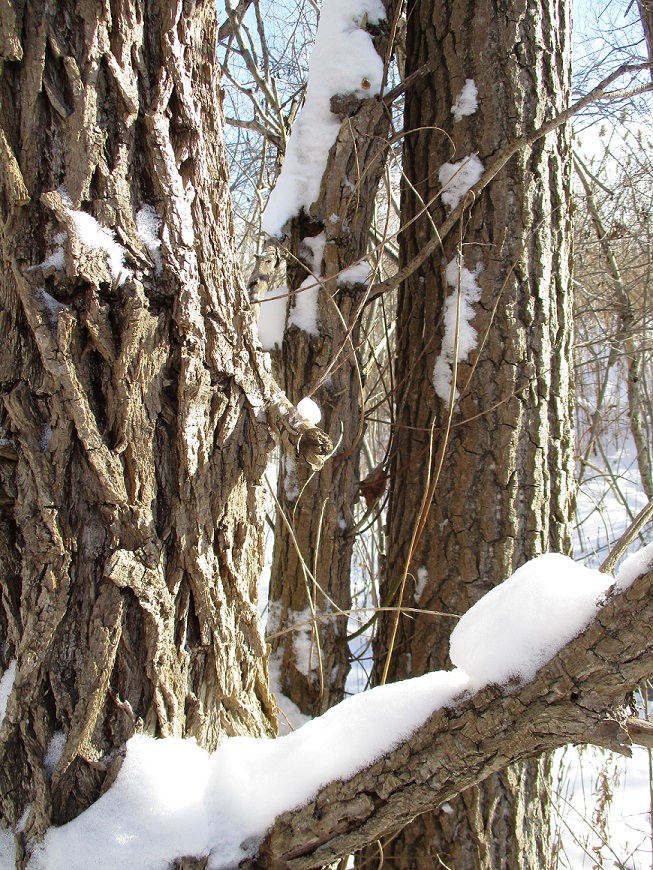 Giant Eastern Cottonwood Trees in Thundering Waters Forest wrongly designated for paving over by claims of Green Ash domination. Photo Martin Munoz.
The irony of Heyworth's reliance on these "anonymous stakeholders" was made apparent through the discussion after his presentation. Councilors applauded Heyworth's presentation, while simultaneously condemning local newspaper, the St. Catharines Standard, for use of anonymously sourced complaints surrounding development. Notably, Niagara Falls Regional Councilor Bob Gale, who had hired a consultant reliant on secret sources, condemned the Standard's use of the same.
The silver lining in the otherwise grueling July 5th, 2018, meeting of Niagara Regional Council was a presentation by environmental protection activist, Jean Grandoni. She gave an eloquent plea for the protection of streams from deforestation and illegal dumping. Grandoni pleaded with councilors that, "Fisheries are the FOROTTEN local food supply. Remember that fish are found locally not just in the cottage north country. However, due to a lack of Watershed Plans, illegal dumping, filling in of floodplains by developers, and diversions, much of this local food supply has been lost. We once had pike up to three feet long but with developer encroachment, pike are almost extinct in inland watersheds." While not met with as much applause as Heyworth, it's still refreshing to know that there are real scientists out there who want to do right by nature and by our home planet.
Original article was written by Dr. John Bacher, Chair and Greenbelt Campaign leader at Sierra Club Ontario. Check out his site here.
Learn more about Niagara Falls City Council's development strategy here.