Ontarians across the province are experiencing a summer of record-breaking heat waves, floods, forest fires and heat-related human health crises. Most recently, Toronto experienced a torrential downpour event with over 100 millimeters of rain falling in just two hours, overwhelming the City's green space and infrastructure. Like other countries and states around the world, Ontario is experiencing first-hand the uncertainty, expense and loss that result from a changing climate.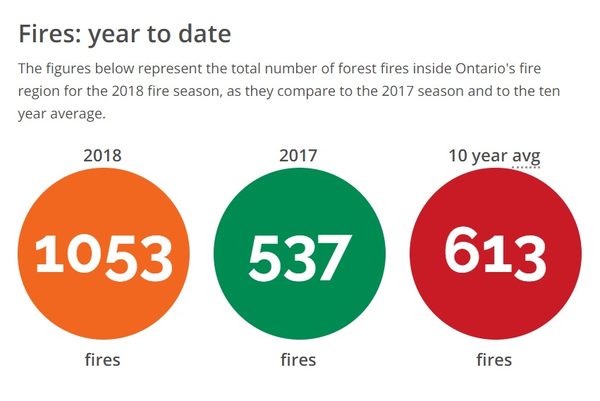 (Photo: Ontario Forest Fires)
Yet the first action of the newly elected provincial conservative government was to revoke Ontario's existing climate policies, including the successful cap and trade exchange in Bill 4. Sierra Club Ontario sign on to an open letter to Premier Doug Ford, together with 37 other climate change and energy organizations, penned by Climate Action Network Canada – here https://climateactionnetwork.ca/2018/08/08/climate-action-network-canada....
In it we demand Doug Ford publicly commit to achieving Ontario's existing legislated greenhouse emission reduction goals by 37.5% from 1990 levels by 2030 and to table a "detailed, scientifically sound plan" to meet these goals now. Indeed, Ontario remains the country's second most carbon polluting province, after Alberta.
Ontario needs a strong, decisive climate plan in place to ensure the province is working hard to reduce its contribution to the global carbon pollution that drives climate change – climate change that is already having very direct and serious impacts on the lives of everyday Ontarians.
VOCAL Rally at Queen's Park against Bill 4 - The costs of inaction are too great!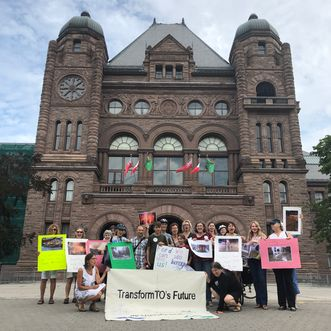 (Photo: Betty Muir and ClimateFast)