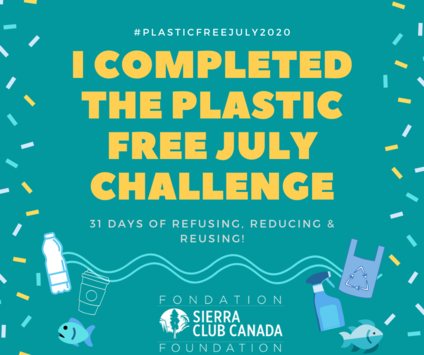 As July has come to an end, I want to thank everyone who joined Sierra Club and thousands across the Great Lakes, for the Plastic Free July Challenge. We had a great month administering the challenge and I hope those who participated enjoyed it.
Thirty-one days of refusing, reducing and reusing. Thirty-one days of activities and action against plastic pollution in Canada.
We started off the month with a private screening of The Story of Plastic, a new documentary by Deia Schlosberg. The film takes a critical look at the environmental damage and human rights abuses that occur throughout the lifecycle of plastic.
Halfway through July, we encouraged folks to take action against plastic pollution through a variety of channels. Over 700 letters were sent to The Honourable Jonathan Wilkinson, Environment and Climate Change Minister, asking that the federal government keep its commitment to regulating plastics, ensure those who produce plastic waste are held responsible for its collection and re-use or recycling, and support clean-up of plastics in our lakes, rivers and oceans.
On July 22, we hosted a virtual lobby day to push local representatives to take plastic waste seriously, and pressure local governments to ban plastic bags. We focused on the stalled Bill 82 - Single-Use Plastics Ban Act, 2019 and the Regulation of Printed Paper and Packaging (PPP), and provided telephone and email scripts for people to use.
We asked participants what their favourite part of the challenge was and got wonderful replies. One said hosting a neighbourhood cleanup. Another said "Challenging my family to participate and watching the great results."
Although July is now over, action on plastic pollution does not have to stop. We encourage you to keep it going!
Right now is a critical time for plastic action in Canada. This August or September, the provincial government plans to release a draft regulation regarding Printed Paper and Packaging (PPP) under the Resource Recovery and Circular Economy Act, 2016. The intent is to make producers of packaging responsible for collecting and recycling waste. If structured right, this regulation encourages waste reduction, saves governments' money, creates jobs, and is in line with the Polluter Pays Principle. Environmental groups have been excluded from consultations on the regulation, so it is very important that provincial leaders hear from concerned constituents about making these rules as strong as possible.
What can you do?
You can still access our Lobby Day Information Sheet with details on how to find and contact your local MPPs.
Sierra Club Ontario is currently looking for volunteers to join the Plastic Committee. If you are interested in volunteering and joining the fight against plastic pollution, please email ontario@sierraclub.ca.
Stay up-to-date with plastic pollution action!
Check out your municipal or county website to find out what they are doing. Make note of the issues you encountered in July, and contact your municipal leaders to get them addressed!
Sign up for our newsletters here.
Become a member of Sierra Club​ to add your voice to those fighting plastic pollution! Join here.
Plastic pollution is a global crisis and we need as many people as possible to join the fight.
Thank you again to everyone who participated in the Plastic Free July Challenge. Your actions have helped reduce the problem with plastics.
Let's keep up the momentum! There is still more work to be done to combat plastic pollution in Canada. Together, we can make a difference!