Posted on September 30, 2013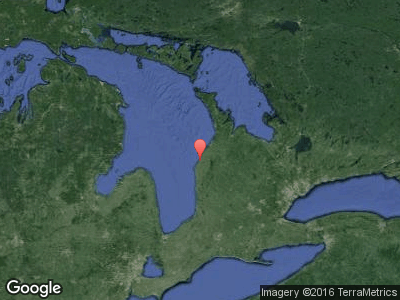 LANSING, MI -- Two Michigan lawmakers are speaking out against a Canadian proposal to store nuclear waste underground less than a mile from the shores of Lake Huron.
State Sen. Hoon-Yung Hopgood (D-Taylor) and Rep. Sarah Roberts (D-St. Clair Shores) are expected to testify Monday afternoon in Canada before a joint review panel assessing the environmental impact and safety risks of a proposed nuclear dumping ground in Kincardine, Ontario.
Ontario Power Generation says it wants to store roughly 200,000 cubic meters of low- and intermediate-level radioactive waste deep inside limestone caverns near its Bruce Nuclear Generating Station. The site is roughly 120 miles upstream from Lake Huron intakes that provide drinking water for much of Southeast Michigan.
Roberts, in prepared testimony she is expected to deliver Monday afternoon, will express concerns about the implications of an unintended disaster, citing the Fukashima meltdown in Japan and recent history of earthquakes in Ontario.
"The bottom line is, it is impossible to guarantee the geological integrity of the proposed location for the (repository)," she said in a copy of her remarks released earlier Monday. "There will always be unanticipated or unpredictable natural occurrences that take place."
The nuclear waste storage site would be the first of its kind within the Great Lakes Basin, according to Roberts, and would pose a risk to Michigan drinking water and tourism for generations to come. Michigan law prohibits the disposal of low-level radioactive waste within 10 miles of the Great Lakes, Lake St. Clair and major rivers that flow into them.
Back in May, the Michigan Senate unanimously adopted a resolution introduced by Hopgood urging the Canadian government to thoroughly review the proposed nuclear waste site and memorializing the U.S. Congress to ensure that Michigan's concerns are fully addressed during that process.
Hopgood, according to his prepared remarks, will criticize Ontario Power Generation for failing to consider alternative sites or extend its public outreach efforts to Michigan, arguing that all citizens who live near the Great Lakes have a right to know about the proposal and should have been consulted.
"The possibility of high-level nuclear waste is a concern as well," Hopgood said. "Despite claims that this facility will not accept such waste, there is nothing to ensure that will not occur in the future."
Ontario Power Generation does not plan to store used fuel at the site. Instead, it hopes to store remnants of clothing, mops, or rags that are used in areas of its nuclear power plants where radiation may be present.
Other local groups, including the Michigan United Conservation Clubs and the Michigan Environmental Council, have also expressed concerns about the proposed nuclear dumping grounds. Hopgood plans to deliver copies of their written statements to the review panel.
The Great Lakes provide 1.5 million jobs in the U.S -- including more than 525,000 in Michigan -- and $62 billion in wages every year, according to a 2011 study by Michigan Sea Grant and the University of Michigan.
"Our industries, from manufacturing to agriculture, to tourism and recreation, to boating and fishing, are critically dependent upon our waters," Hopgood said. "Threats to our Lakes, including contamination, invasive species and water withdrawals, endanger not only Michigan's environment, but also its livelihood."
Jonathan Oosting is a Capitol reporter for MLive Media Group. Email him, find him on Google+ or follow him on Twitter.
© 2013 MLive.com. All rights reserved.