As COVID-19 marches on in the Atlantic region, and around the world, so too does the climate crisis. The irony, of course, is that these two tragedies are very much interrelated. But we'll save that for another day.
Our Atlantic Chapter has some great stuff planned in the coming weeks.
Decolonizing Book Club
Wednesday, June 2, at 7:30pm, we're launching a biweekly Decolonizing Book Club, guided by Mi'kmaw educator Chris George. As Chris explains, "Fundamentally, decolonizing means building relationships and raising awareness. We need settler support, because the laws and structures that harm Indigenous peoples are put in place by a settler government. This is an opportunity to build those relationships and raise awareness."
We'll begin by discussing Whose Land Is It Anyway: A Manual for Decolonization, followed by Unsettling Canada. The sessions are free and will be hosted online. For more information and to register in advance, go to Decolonizing Book Club.
Invisible Hand Screening and Q&A
June 14–15, we invite you to watch a free screening of the award-winning Rights of Nature documentary, Invisible Hand. It follows several communities as they fight back against big industry's quest to offload toxic waste, build more pipelines, and develop the land at any cost—even if it means contaminating rivers and destroying ecosystems. The title, Invisible Hand, refers to the invisible hand of capitalism.
Executive producer Mark Ruffalo (aka "the Hulk") explains, "This [Rights of Nature] movement changes everything. It honors indigenous wisdom and shifts our priorities. It restores balance by placing nature at the center of our decision-making processes and gives the power that corporations stole back to our communities."
The free screening is available for 24 hours, beginning Monday, June 14 at 7:30pm AT. On Tuesday, June 15 at 7:30pm AT there will be a virtual Q&A with community organizers from the Community Environmental Legal Defense Fund (CELDF), featured in the documentary.
This screening is co-hosted by our local chapter and the newly formed Rights of Nature Network–Atlantic Canada. Register here for the Zoom link and updates.
On Our Watch
There's a lot going on right now in this region that requires our attention:
Pieridae Energy is seeking close to a billion dollars in funding from the federal government in order to help pave the way for private investment in order to build a liquid natural gas processing plant in Goldboro, NS. The plant would pipe in fracked and sour gas mostly from Western Canada and would be the largest project ever built in NS. It would result in the province exceeding its GHG emissions cap by more than 30 percent. It also involves constructing a workcamp to house up to 5000 out-of-province workers, posing a significant threat of violence to Mi'kmaw women and children living nearby. The Grassroots Grandmothers were not consulted about this project and they do not consent to it being built on the unceded territory of Mi'kma'ki.
Despite the International Energy Agency's report released last week, calling for no new oil and gas projects and an accelerated transition away from fossil fuels, the federal government plans to go ahead with its tender for new bids for offshore drilling off NFLD and Labrador—

without

adequate impact assessments. Sierra Club Canada Foundation is one of several environmental organizations taking this matter to federal court.

Flawed environmental assessment of offshore drilling faces scrutiny in federal court

.

New Brunswick is eyeing unproven, experimental nuclear technology for its get-off-fossil-fuels plan. The provincial and federal government have already sunk millions of taxpayer dollars into small modular nuclear reactor development, which is currently the least affordable energy option and the one that would take the longest to implement (a decade or more).

Get the Facts on Small Modular NUCLEAR Reactors

.

Communities throughout the Atlantic region are dealing with air, water, and noise pollution that has been allowed to persist despite repeatedly being brought to the attention of all levels of government and the industries that cause it. For those who are most impacted, it takes an enormous toll on their health and wellbeing, and in some cases, their livelihoods as well.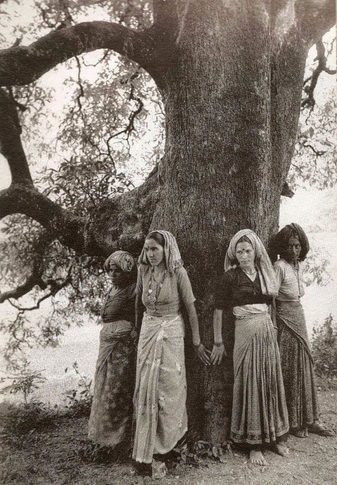 Yes, there are plenty of reasons to feel discouraged, but I find it reassuring that no matter how difficult the challenges may be, we are not alone in facing them. Countless people around this region—and the world—are doing what they can to stand up for nature and for the basic human right to have a liveable planet.
We can also find strength in the brave ones who've gone before us. Read about the origin of the word "tree huggers" from a standoff between loggers and villagers in India in 1790.
Photo: The village women of the Chipko movement in the early 1970's in the Garhwal Hills of India, protecting the trees from being cut down.
Interested in working with Sierra Club?
We're looking for someone to fill a Canada Summer Jobs position in Moncton NB with our Watch for Wildlife program. Check it out. Also, keep an eye out for our Watch for Wildlife video coming next month.