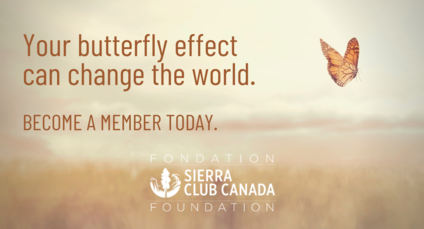 A few weeks ago, I saw my first butterfly of the season. After a winter of erratic weather, and in the midst of this current health crisis, the sight of this beautiful little creature – its brilliant orange set ablaze against forlorn spring grass, with its wings gently fluttering – was a gift to my eyes and my heart. (It was not a Monarch. I'm still researching – perhaps it was a painted lady (Vanessa cardui?)
It made me think about all the connections we share with nature. And it got me thinking about The Butterfly Effect – the theory (loosened here) is that one small action, event or choice can affect outcomes, positive or negative. A negative would be, for example, creating the inhumane conditions that could lead to transmission of disease from wildlife to humans, resulting in a global virus, or launching a century ago our industrialized economies built on burning deadly fossil fuels, only to years later be feeling the damage we'd already done to the planet.
But here's the thing about the positive side of The Butterfly Effect: the more you continue to take actions now to protect our fragile planet, make your voice heard, and demand change – the more likely it is that even your smallest actions will result in big change.
Becoming a member of Sierra Club is a lot like that. Take a moment now to sign up as a member and be a part of Canada's only national grassroots-led organization working to protect and restore the species and spaces that give us life. You will be warmly welcomed.
As a member, you will really make a difference. Here's a very recent example: when the federal government announced emergency funding to help individuals and businesses suffering financial losses due to the COVID crisis, the billions-of-dollars oil industry lobbied relentlessly to receive bailout funds.
Sierra Club mobilized our membership to take action to say NO to any bailout for oil companies, and to say YES to workers and their families. The government heard you, and the government responded with the April 17th announcement that funds for the oil patch would be dedicated to clean-up of abandoned oil wells, and not to line the pockets of wealthy oil executives and their shareholders.
That's the kind of change you will make as a member.
That's your butterfly effect.
This current health emergency has brought the fragility of our planet into humbling, stark reality. The connection between the natural world's health and that of our own has never been more obvious or more embraced.
We must seize this opportunity to create a massive swell of support for the environment, and our natural systems, and to stave off the loss of biodiversity and minimize the effects of climate change.
We can do this together.
Please take one minute to join us as a valued member. This is the moment you can help the most.
Warmest wishes and thank you for everything you do to make our world better,
Melissa Munro
Director of Development and Communications
Sierra Club Canada Foundation
P.S.: A few weeks ago, as the COVID measures were put in place, we sent you some resources, in case you or anyone you know might need them. Here they are again should they be helpful.
Wishing you health and wellness.
. . . . .
Support for Seniors: "A Friendly Voice" For seniors anywhere in Ontario, call 613-692-9992 in Ottawa, or outside Ottawa toll-free 1-855-892-9992.
Chat and Text Services by Region for those just needing to talk when feeling isolated.
Crisis Lines by Region for anyone feeling the weight of this situation, or for any other matter.
Children and Youth: Kids Help Phone, 24/7 phone, text and live-chat assistance.