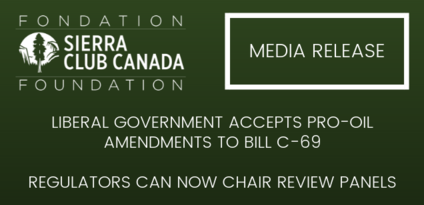 REGULATORS CAN NOW CHAIR REVIEW PANELS!
K'jipuktuk/Halifax: The federal government has rejected a number of amendments from the Senate, but not all. Life cycle regulator appointees can now chair review panels. The four life cycle regulators mentioned in the Bill C-69 are the Newfoundland and Nova Scotia Petroleum Boards, the Canadian Nuclear Safety Commission and the new Canadian Energy Regulator.
"These regulators are biased, " says Gretchen Fitzgerald, National Program Director with Sierra Club Foundation of Canada. "In Atlantic Canada, petroleum boards are widely viewed as too close to the oil industry and we have been adamantly opposed to their appointees sitting on panels, let alone chairing."
This story began when the federal government as a result of pressure from Newfoundland MPs allowed panel members appointed by the petroleum boards--2 appointees on a 5 person panel—to chair review panels. This change provoked widespread opposition from fishing and tourism organizations, Indigenous leaders, and environmental groups in Atlantic Canada.
In response, Senator Jane Cordy introduced an amendment to prevent petroleum board appointees from chairing panels. This amendment was defeated. Instead, the amendment allowing appointees from all four life cycle regulators to chair, was approved by Senators. The federal government has chosen to accept this amendment thereby weakening the integrity and independence of the environmental assessment process in Canada.
"Although we were encouraged by government's decision to reject many of the Senate amendments, the appointment of petroleum board members to review panels threatens the integrity of the process by undermining its independence. Allowing those members to chair these panels enables a level of influence that is unacceptable," says Lisa Mitchell, Executive Director of East Coast Environmental Law.
Unlike BC and the Arctic, most of Atlantic Canadian waters are open to oil and gas drilling. The province of Newfoundland and Labrador has set a goal of doubling its offshore oil production and drilling a hundred new exploratory wells by 2030.
"The federal government pledged to restore credibility to the environmental assessment process. In Atlantic Canada they have done the opposite when it comes to offshore drilling", says Mark Butler, Policy Director, Ecology Action Centre.
-30-
Media Contacts:
Gretchen Fitzgerald, Sierra Club of Canada Foundation-902-444-7096
Lisa Mitchell, East Coast Environmental Law Association -902-670-1113
Mark Butler, Ecology Action Centre-902-266-5401