Posted on October 12, 2021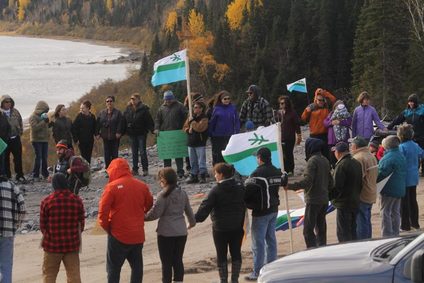 Happy Valley-Goose Bay, NL - The Sierra Club Canada Foundation, Grand Riverkeeper, and North American Megadam Resistance Alliance submitted a letter today to Prime Minister Justin Trudeau as well as the premiers of the Atlantic provinces calling on them to oppose the Gull Island mega-hydro project. The Gull Island project is proposed to be built in the Grand River/Mistashipu area (colonially known as Churchill River) of Labrador.

The letter is signed by over 80 organizations and community leaders, representing millions of members and including leaders of Indigenous communities..
If built, the Gull Island Project would block the Grand River with a massive 300-foot dam, flood 23,000 hectares of boreal forest, and increase already dangerous levels of methylmercury in fish and wildlife, the traditional food source of Inuit and Innu people.
""Rivers are life. Literally. Damming rivers is aiding the destruction of the fisheries, both fresh water and marine, poisoning indigenous food webs with methyl mercury, and contributing to the climate crisis." states Roberta Benefiel, Executive Director of the Grand Riverkeeper. "Many people in this area depend upon wildlife and fish that could be exposed to methylmercury, a neurotoxin, as a result of this project. That's not to mention the many other impacts of such a project on ecosystems, which would result from this project, at a time when we are facing a global biodiversity crisis."
The letter lists a number of other impacts related to the project including:
Fragmenting and strangling rivers, as nutrients and sediment get blocked behind dams;

Destroying freshwater and marine habitat along with the fisheries dependent on them;

Changing natural river flows and upstream and downstream ecosystems;

Producing significant volumes of greenhouse gas emissions, including methane;

Poisoning wildlife, fish, and the Indigenous People who depend on them with the neurotoxin methylmercury;

Repeatedly violating treaty obligations and Indigenous rights, as prescribed by the UN Declaration of the Rights of Indigenous Peoples (UNDRIP).
It is feared that the Atlantic Loop, referenced by the previous government in the Speech from the Throne in 2020, reflects and endorsement of Gull Island. Subsequent messaging by the federal government has hinted that they could subsidize electricity transmission from mega-hydro projects, including Gull Island.
"Instead of subsidizing a mega-hydro project that we know will have these negative impacts for people and the environment, we should use investment in the Atlantic Loop to promote local renewables and jobs, as well as community resilience. Shifting investment away from mega-projects and to such initiatives would localize the benefits of a loop in communities and help them address local environmental issues like the impacts of climate change," Fitzgerald adds.
The Gull Island mega-hydro dam has significant similarities to the Muskrat Falls meg-hydro project. Gull Island would compound the problems already caused by the Muskrat Falls project which nearly bankrupted the province of Newfoundland and Labrador and released dangerous levels of methylmercury into the food chain.
"The Muskrat Falls project is widely regarded as having been a bad investment that caused far more problems than it solved, for both the provincial economy and local communities in Labrador. We missed an opportunity, in investing in Muskrat Falls, to instead make better investments in communities and local renewable energy. We can't afford to make that mistake again," states Gretchen Fitzgerald, Sierra Club Canada National Program Director.
After extensive occupations and hunger strikes many Indigenous and non-Indigenous people in opposition to the Muskrat Falls project the United Nations Special Rapporteur on human rights and hazardous substances, Baskut Tuncak stated "I urge the Federal Government to use its leverage as the largest investor in the project to review whether UNDRIP compatible procedures were followed for all affected Indigenous Peoples, and to prevent the release of methylmercury."
The groups point out that pursuing the Gull Island project would directly contradict this call to limit methylmercury release.
###
Signatories to the Open Letter
Media Contacts:
Quotes from some of the organizations and community leaders who signed the letter:
"We do not want our need for electricity to transition from fossil fuels to come at the expense of the First Nations, their health, land, water and traditions" - Amy Eshoo, Program Manager, 350 Maine
"The history of Canadian hydropower is rife with environmental racism and dispossession of Indigenous peoples. Reconciliation demands redress, not adding to the harm." - Ana Simeon, Campaigns Director, RAVEN (Respecting Aboriginal Values and Environmental Needs)
"The term "surplus hydropower" is a deceitful marketing scheme, now is the time to remove dams and free the rivers." - Annie Wilson, Senior Energy Policy Advisor, New York Environmental Law and Justice Project
"No Dam is a Good Dam" - Charlotte Wolfrey, AngajukKak, Rigolet Inuit Community Government
"For too long countries have ignored the significant negative effects of hydropower dams and we are already paying the price", said Chris Wilke of Waterkeeper Alliance. "We can't go on destroying rivers under false promises of 'green energy' and we must accurately study and fully assess all impacts of this destructive industry" - Chris Wilke, Global Advocacy Manager, Waterkeeper Alliance
"These massive hydro projects cannot legally or ethically move forward without the free, prior, informed consent of affected Indigenous communities. Canada's treatment of Indigenous Peoples is already under close scrutiny through the UN Universal Periodic Review, where Canada received and supported 75 recommendations on improving the human rights conditions of Indigenous Peoples, many of which specifically instructed Canada to prohibit the environmentally detrimental development of resources on the territories of Indigenous peoples without the free, prior and informed consent of those communities. Canada has an obligation to seek FPIC and if these projects continue, will face significant reputational risk at the international level." - Danielle DeLuca, Advocacy Program Manager, Cultural Survival
"Pimicikamak supports all indigenous peoples of turtle island as "keepers of the lands and keepers of the waters and does not condone flooding of any indigenous and sovereign Nations' territory. Respect the treaties and aboriginal rights of our indigenous brothers and sisters!" - David Monias, Chief, Pimicikamak Okimawin aka Cross Lake Band of Indians
"Mega hydro-dams are not renewable energy. They are finite resources that generate GHGs, pollute the environment and disrupt communities." - Earl Hatley, Grand Riverkeeper, Oklahoma
"Dams are no different than arterial plaque. When vital nutrient flows are tampered with or eliminated, there can only be one logical outcome and it's usually deadly." - Ed Friedman, Chair, Friends of Merrymeeting Bay
"Hydropower is dirty, wasteful, expensive energy -- please stop this project." - Gary Wockner, Director, Save The World's Rivers
"Large-scale hydro projects are the opposite of what is needed for a clean transition and do not align with the principles of just and green recovery." - Gurprasad Gurumurthy, Energy Coordinator (Renewables & Electricity), Ecology Action Centre
"To avert the extinction and climate crises, we need to dismantle thousands of dams and liberate rivers all over the world. Building new mega-dams is the exact wrong direction at this climax in history, ecologically, socially, climatically, and morally." - John Davis, Executive Director, The Rewilding Institute
"Every mega project will cost the taxpayer of this country except the rich who can afford to invest in it It will undoubtedly destroy more land than intended and like all mega projects cost three times as much." - Junior Downey, President, Salmon Watchers Assistance Group
"Large hydro is not a climate change solution. In fact, large hydro is an environmental, economic, and social disaster. Especially in light of climate change, society simply cannot afford to build any more large hydro." - Ken Boon, Large Hydro impacted farmer Peace Valley Landowner Association
"There is no credible justification for the Gull Island hydroelectric project even if we ignore the extreme violation of Indigenous rights and impacts on Indigenous communities who have already borne the severe impacts of such projects in Newfoundland and Labrador. Taking these violations and impacts into account, Gull Island is all the more wrong-headed and makes a mockery of any talk of UNDRIP or Reconciliation. Hydro megaprojects are not the future of energy, which will be local, distributed & closer to demand, nor are they part of a just climate transition. ...
Gull Island would be yet another environmentally destructive and Indigenous rights-violating dam in Newfoundland-Labrador. It's time to find cleaner and more just alternatives." - Lindsay Brown, Director of Communications and Strategy, Commons BC
"We have the natural resources to provide for our energy needs without flooding land and polluting waterways that should be recognized as indigenous peoples'." - Lucy M. Lehr, Racial justice advocate, Social Justice Cooperative
"We were outraged to learn that a Gull Island mega dam project may go through, compounding the devastation of Muskrat Falls. We stand in solidarity with our Inuit and Innu relatives in opposing this and any further mega dam projects. All of these mega dam projects from Muskrat Falls to Site C are demonstrated to be environmentally destructive and devastating to Indigenous communities. It is long past time for Canada to consider the consequences of its actions and heed the voices of Indigenous peoples who are protecting the land and water." - Mahtowin Munro, Co-leader, United American Indians of New England
"The federal government keeps saying it wants to honour the United Nations Declaration on the Rights of Indigenous Peoples, but it keeps ignoring the "free, prior and informed consent" cornerstone of that declaration when it comes to mega dams or any other energy project affecting Indigenous peoples. There was no consent for the Churchill Falls or Muskrat Falls dams, and the damage they have done is incalculable. They must shut down any consideration of the Gull Island project." - Matthew Behrens, Coordinator, Ontario Muskrat Solidarity Coalition
"Our organization is based in New England, but the impacts of destroying forests and ecosystems are global. Moreover, Hydro-Quebec is counting on selling electric power in the U.S. to continue enabling these devastating hydro projects. We can help to stop them by refusing to buy this dirty power from Hydro-Quebec." - Michael Kellett, Executive Director, RESTORE: The North Woods
"Muskrat Falls has been a complete financial disaster - do we need another. Wind energy spread around Newfoundland would have been 25% of the Muskrat Falls original price, provided jobs all over Newfoundland, and been staged for need, and kept workers in their local communities, win-win-win, versus lose-lose, and bury your Provincein debt." - Neal Livingston, Co-Chair, Margaree Environmental Association
"It is an exercise of negligence when governments refuse to consider the collective impacts of such projects- on cultures, the environment, and long-term economics- which are based on a healthy ecosystem. If the projects continue, the government will be responsible for these externalities- and there isn't a society on this planet that can afford that." - Nickie Sekera, Co-founder, Community Water Justice
"The trees of the boreal forest are critical tools for fighting the climate crisis we are in. Shame on Prime Minister Trudeau and his government for trading the future of generations yet unborn for a few pieces of silver. Yours will be the legacy of greed and indifference to Mother Earth!" - Paul Popinchalk, Energy Consultant, Worcester Building Electrification Taskforce
"Massachusetts can NOT be allowed to sacrifice people and precious resources to serve needs we can address ourselves." - Pine DuBois, Executive Director, Jones River Watershed Association, Inc.
"The reproductive and nutrient cycles of North Atlantic, subarctic, and Arctic marine ecosystems have adapted over many millennia to river flows which possess a massive spring freshet after a long winter of low flows. These mega dams steal and store the spring freshet and introduce high winter flows that marine life has not adapted their life survival strategies to. It is essential for these mega-dam projects to engineer expansive reservoirs to insure adequate transport of heat occurs in the winter to prevent the dam project and river from being locked in ice. This flow alteration is not only generating heat pollution but is altering coastal ocean currents. The Arctic is extremely sensitive to these changes and is a key reason why it is warming at an accelerated pace." - Roger Wheeler, President, Friends of Sebago Lake
"This is 2021. Dams should not be considered." - Ruth Ann Darnall, President, Peace Valley Environment Association
"We must acknowledge the large-scale devastation that massive hydro dams cause on the environment and grave impacts they place on indigenous communities. The people of Maine and other regions of hydropower exports should not continue to support this destructive source of power." - Sandra Howard, Director, Say NO to NECEC
"The anticipated construction of the Gull Island mega-hydro project (Phase Two) builds on a legacy of hydroelectric projects that have been constructed across Canada with devastating impacts on Indigenous communities and environments alike. Our work regarding a similar and ongoing construction project in Manitoba (Keeyask) shows, greenwashing aside, that there are few if any local benefits and ultimately only adverse impacts. These will extend for generations into the future when the original decision-makers are long gone. Please reassess your priorities and meaningfully consult with the Elders and knowledge keepers and the others that live near Muskrat Falls, who will be able to speak directly to the irreparable damage caused by Phase One before even contemplating this project. And please learn, finally, from these mistakes." - Steph McLachlan, Ph.D., Principal Investigator and Professor in Environment and Environmental Health, Wa Ni Ska Tan Alliance of Hydro-Impacted Communities
"We need to be working together to save, and maintain pristine ecosystems, not destroy them when alternative forms of energy are available. ...
Both Ecological Justice and Social Justice for all impacted communities MUST be considered please do not further destroy all unique communities on land or in the water. We have already seen how destructive building dams has on the environment & on local ecological and human populations it is time to STOP now we have alternative sustainable energy sources available. Support and use them and help save the planet, the biosphere/ " - Trish Betts M. E. S., Retired professor, Large Marine Ecosystems Ecologist
"Mega dams are a terrible example of environmental racism. They are not clean nor green once we consider their cumulative impacts. The destruction of healthy ecosystems is something no one can afford in our current climate emergency. We need to stand with Indigenous land defenders to protect rivers and give them the chance to heal from the attacks on them." - Rita Wong, Volunteer, FightC