Posted on January 29, 2014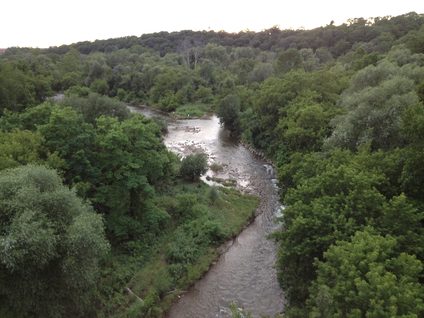 By Dan McDermott, Ontario Chapter Director
At its December meeting the City of Mississauga's Environmental Advisory Committee (EAC) passed on to Mississauga Council a recommendation to apply to add the City's publicly owned Credit River and Etobicoke Creek valley lands to the Greenbelt. The Greenbelt resolution is on the Council agenda for its February 12th meeting. If successful, the Mississauga initiative will be the first addition to the Greenbelt under Ontario's new Urban River Valley (URV) designation, enacted early last year. It will also mark the expansion of the Greenbelt into Ontario's second most populous municipality.
The Mississauga Greenbelt initiative has been in the works for some time and stands to become a part of the legacy of Sierra Peel founder Peter Orphanos, who passed away in December 2012. Peter's tireless efforts to protect his community's natural areas and especially his beloved Credit River, included his work as a citizen member of EAC. Working closely with committee chair Councillor George Carlson, Peter instigated the Greenbelt resolution in early 2010. The resolution was then quickly approved in principle and referred to staff for a feasibility analysis. This analysis took three and a half years to complete.
City of Mississauga planning staff did not quickly get with the Greenbelt program. One lead planner went so far as to firmly state that the Greenbelt did not belong in Mississauga during a May 2012 meeting with Sierra Club and Friends of the Greenbelt Foundation. This staunch resistance to the Greenbelt in an urban context was not unique to Mississauga planners. The Ontario Government's introduction of the URV designation was in response to these concerns. The staff recommendation to EAC identified the URV framework as the game changer in achieving Mississauga staff support for the Greenbelt addition.
Sierra Club is optimistic that the Mississauga Greenbelt initiative will succeed, but further hurdles await. The Mississauga Council resolution will then go to Peel Regional Council for action. Under the Greenbelt Act it is the upper tier municipality that must make the formal application to the province. Such application will then go to the Ministry of Municipal Affairs and Housing (MMAH), the ministry responsible for the Greenbelt, for final approval. The possibility of a spring provincial election could further delay the achievement of Mississauga's move to the Greenbelt.
It is important for Sierra Club and the environmental community to work to secure the permanent protection of Ontario natural areas in the Greenbelt. Work is underway within the environmental community to ensure that the provincially mandated 2015 Greenbelt Act Review results in the Greenbelt fulfilling its promise to include and protect our threatened natural systems. The current disconnect in which portions of rivers, such as the Credit, are Greenbelt protected and urban sections are not, is illogical and must change.