Posted on January 31, 2014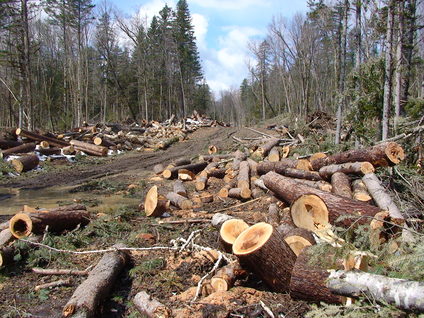 A USA law, the Lacey Act, has shown to be effective in decreasing the trade of illegal wood products. This story shows how Canada can also be making steps towards prevention.
Earlier this month, Congress did something it hasn't done in years – pass a budget. Thankfully, now that funding levels have been set for 2014, members of Congress are already looking ahead to the budget for 2015. Much more than a bunch of numbers, the 2015 budget will provide Congress with an opportunity to address countless problems, and Representatives Peter DeFazio (D-OR) and Dan Benishek (R-MI) want to use that opportunity to combat illegal logging around the world.
Illegal logging is a serious problem. It contributes to deforestation worldwide, which accounts for roughly 17 percent of global carbon pollution, harms indigenous communities, and funds underground crime. In the United States, the importation of illegal wood products artificially lowers prices of wood products by around $1 billion a year, threatening American jobs.
As I wrote last year, the United States has one of the most effective laws in the world to ban the trade of illegally harvested plants and animals -- the Lacey Act. First enacted in 1900 to ban the trade of poached wildlife between states, Congress amended the Lacey Act in 2008, making it illegal to import illegally harvested wood products. Now, companies that import wood products must declare what species of plant they are importing and where it came from. Those that break the law face fines and even jail time.
Already, the Lacey Act has already helped shift the trade balance in U.S. forest products from a $20.3 billion deficit in 2006 to a $600 million surplus in 2010. A report by Chatham House also credits the Lacey Act with keeping more than 1 billion tons of carbon dioxide out of the atmosphere. Unfortunately, some companies continue to import illegally logged wood. Just three months ago, federal agents raided the corporate offices of Lumber Liquidators, the top-selling flooring retailer in America, who may have imported wood illegally harvested from the Russian far east, home of the last 450 Siberian tigers in the wild.
This month, Representatives Peter DeFazio (D-OR) and Dan Benishek (R-MI) wrote a letter to the Director of the White House Office of Management and Budget, Sylvia Burwell, urging her to request increased funding for the enforcement of the Lacey Act. Increased funding would allow the Department of Agriculture to build an electronic database to more efficiently monitor import declarations, the Department of Interior to better deter companies from importing illegal wood, and the Department of State to educate businesses at home and abroad about the Lacey Act and its requirements.
Thanks to the Lacey Act, we've already made progress in slowing the trade of illegal wood products, but we still have a ways to go. It is critical that Congress follow the lead of Representatives DeFazio and Benishek and pass a budget that includes increased funding for the Lacey Act. To help, tell your Representative to support the Lacey Act.

--Jesse Prentice-Dunn, Sierra Club's Responsible Trade Program
Image: WWF-Russia