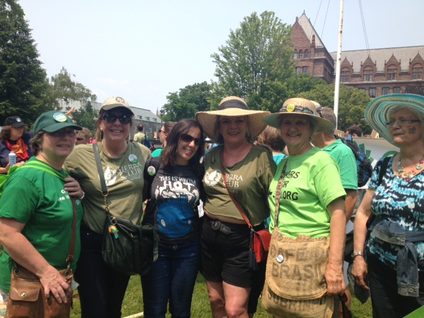 Written by: Alyssa Beurling
This past Sunday over 10,000 people (some reports saying closer to 15,000) flooded Toronto to take a stand for climate justice and a green economy. The march began in Queen's Park outside Ontario's legislature and continued loudly down the streets of Toronto to the grounds of Allan Gardens. This rally was the second largest Canadian climate demonstration, the first was held in Quebec earlier this year, and came just days before the Pan American Climate Summit and Economic summits also being held in Toronto.
The march brought together frontline Indigenous communities, Canada's largest unions, students, social justice organizations, health care workers, and grassroots activists who all want a better future and a new economy which works for both the people and the planet. People marched on behalf of climate action and for the people affected by extreme climate events world-wide. This summer's deadly heat waves and wildfires continue to span the globe from Canada to South Asia, and serve as a stark reminder of the climate reality facing people and the environment and the urgency for climate action.
Some big name players like David Suzuki and Jane Fonda were also there to show their support, marching amidst the seas of people, with Jane taking the mic urging governments to do more to fight climate change. The energy amongst the crowds during the opening speeches and throughout the march was palpable - I, myself rode the energy high for a couple days. It was truly incredible to see so many people, from so many communities and organizations coming together in unison for the single goal of a better future- for everyone.
To see Jane Fonda's speech click here: http://globalnews.ca/video/2093072/jane-fonda-attends-toronto-climate-change-protest