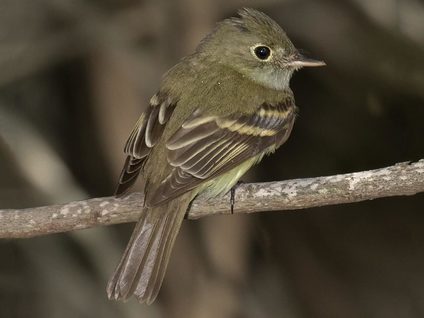 (Acadian Flycatcher. Photo: Edward Plumer)
On May 8, 2018, the Niagara Falls City Council voted to approve what is now termed the Riverfront development. This would, if approved by the Ontario Land Use Planning Tribunal (LPAT), call for the destruction of 120 acres of diverse natural habitat, some of which is now protected wetlands.
Niagara Falls Planning Department described in detail the reasoning behind this decision on its website. However, missing from the published material are two letters from the Ministry of Natural Resources and Forestry (MNRF), dated December 11, 2017 and January 25, 2018, respectively. Both were signed by Tara McKenna, Senior Planner for the Guelph District of MNRF.
In a separate letter from Tara McKenna, released to council on April 30, 2018, she referred to these suppressed documents and stressed recent events did not address all of MNRF's concerns. Despite this letter alluding to "previous correspondence," both city councilors and the public were kept in the dark about what exactly the "previous correspondence" was.
Through this omission, Niagara Falls Planning Director Alex Herlovitch managed to avoid addressing various topics to Niagara Falls City Council. One such topic is the endangered species, Acadian Flycatcher. Even though concerns surrounding Acadian Flycatcher habitat were addressed at length in the suppressed correspondence, they do not appear in the final letter which Herlovitch chose to share. This simple omission allowed GR Canada solicitor, Jane Pepino, to claim that all MNRF concerns had been addressed by the City of Niagara Fall and her client.
The Acadian Flycatcher is a highly endangered species, with approximately 75 breeding pairs surviving in Canada. The Acadian Flycatcher requires large intact forests to survive. This means that extensive tree removal for Riverfront poses a threat to the already fragile population, which lives only in the deciduous Carolinian forest zone. This data is detailed to the most recent Environment Canada Recovery Plan, which also stressed the importance of protecting large blocks of Carolinian forests. At healthy populations, the Flycatcher can play an important role in forest protection as a predator of the tree destroying tent caterpillar.
In the letter of December 11, 2017, MNRF challenged claims by Savanta, GR Canada's environmental consultancy, that the Acadian Flycatcher was not present for a sufficient length of time for the forest to be considered a protected habitat. MNRF stated that such a statement conflicts with findings by their predecessor, Dougan Associates, who confirmed that Acadian Flycatcher habitat is on site. In this same email, McKenna told Herlovitch that the area Savanta examined did not include "the original location where the male Acadian Flycatcher was identified in 2015. […] this species is known to have site fidelity but may not utilize it on an annual basis. As such MNRF is of the opinion that that additional studies carried out have not sufficiently demonstrated an absence of the species on site."
In response to the approach taken by Savanta, MNRF declared that it would define the habitat area of the Acadian Flycatcher under Section 10 of the Endangered Species Act, excluding part of Riverfront's development. Savanta, faced with the prospect of unilateral imposition of a protected area for the Acadian Flycatcher, agreed to provide habitat mapping for MNRF to review. However, when Savanta's March 2018 Addendum to their Environmental Impact Study (EIS) came out, there was no mention of the MNRF comments or of Savanta's pledge to assist in mapping Acadian Flycatcher habitat. Despite these actions, Savanta did not face public criticism because due to the suppression of the MNRF correspondence.
Old growth forest in area recently identified in secret report by MNRF. Photo: Martin Munoz.
The battles between Savanta and MRNF over the Acadian Flycatcher are similar to another dispute similarly suppressed. There exist in the Riverfront area a number of provincially significant forests, delineated by the Niagara Regional Official Plan. Designated as Environmental Conservation Areas (ECAs), development cannot take place on these lands unless an approved Environmental Impact Statement (EIS) illustrates that there is no loss of ecological function.
In their EIS studies, Savanta stated that the ECA forests were losing their ecological function as Green Ash continue to die off from Ash Boer infestation, and will soon be replaced with invasive, exotic Buckthorn. Savanta's impression was that with Green Ash canopy decline, the significance of these forests will decline with it, making it unworthy to protect.
In retaliation that McKenna argued that "the potential future decline in ash canopy may change the dominant canopy species but not necessarily the functional value of the woodland. The woodlands are contiguous with existing forested wetlands and upland forested areas which contribute to the overall species and structural diversity, size of the larger wooded areas, and the functional linkages between the different features within the Study Area and beyond." She further stressed that MNRF's Natural Heritage Reference Manual detailed how despite ash die off impacted forests would continue to provide important ecological functions such as woodland area size and "interior area, linkages, and proximity to other natural heritage features."
McKenna's criticism was based on the contents of the original Savanta EIS released when Riverfront was unveiled in October 2017. Because their original statement about buckthorn wasn't properly acknowledged and criticized, Savanta was able to make more extreme conclusions about the impact of Buckthorn, which Herlovitch further inflated. In Herlovitch's May 8th, 2018, report to the Niagara Falls City Council, he wrote that Savanta's "EIS has demonstrated that woodlands within the subject lands while currently meeting the Region's criteria for significance, will lose their significance within two to five years due to losses resulting from Emerald Ash Borer and Dutch Elm Disease. These trees will be replaced, if left unchecked, with invasive species such as Buckthorn. At this point the woodlands will be no longer considered significant."
By means of suppressing MNRF's comments, Herlovitch was also able to craft Condition 11 of his recommendations which, by its ambiguity, has prevented any appeal to the LPAT of council's decision. This calls for future studies to produce "maps illustrating the areas recommended for woodland removal." The premise of this recommendation endorsed Savanta's modus operandi and allowed for contrary views, such as those from MNRF, to be buried.
A third point touched on in the suppressed correspondence dealt with another issue ignored by Savanta and their draft EIS. Much of the proposed Riverfront lands north of the Con Rail Drain are old growth forests. McKenna pointed out that earlier EIS work by Dougan had found that "old growth forest elements" were located here. The old growth nature of the forests should also be considered provincially Significant Wildlife Habitat.
To his credit, Herlovitch did recommend the protection of potential bat habitat in Riverfront in his May 8th address to the Niagara Falls City Council. Unfortunately, he did not address the reality that these areas are within the same old growth forest tract that were marked for destruction. It's also important to note that these areas containing largely oak, maple, and hickory for bat roosting, are not vulnerable to forest canopy loss from dying Ash.
MNRF's concerns about bats were extensively addressed in the April 30th letter; the goal of which was to designate the formerly protected Wetland Number One as a Special Policy Area due of its significance as a bat maternity roosting area. This did not include, however, all of the potential bat habitat, even those mapped by Savanta.
In his aforementioned report to council Herlovitch made a detailed list of currently ECA protected forests. In his report there was a map which listed "woodlands to be removed (due to loss of canopy." One of these doomed forests was identified by MNRF's December 11, 2017 as being old growth. It was also identified in Savanta's EIS as candidate bat roosting habitat. To meet this criteria the old growth forest would have to have a lot of old oak, hickory and maple trees. These are conditions which would prevent canopy loss from Emerald Ash Boer predation.
Finally, the two suppressed letters from MNRF also contained important comments on the significance of a threatened moist prairie-savannah species, Dense Blazing Star. Savanta claimed that MNRF regarded the species as an artificially introduced population, which McKenna had refuted in one of the omitted letters.
On December 11, 2017 MNRF denounced Savanta's statement regarding the Dense Blazing Star as "not consistent with the Endangered Species Act." They requested that the habitat "be mapped and submitted to MNRF." This still has not been done by Savanta, and although it claims to have excluded the Dense Blazing Star from the development area, the version of Amendment 117 approved by Niagara Falls City Council on May 8, 2018, depicts otherwise.
The two blocked MNRF letters reveal is what environmentally concerned people, aware of the precious bio-diversity of Carolinian forests knew all along: cutting up large blocks of native deciduous forest is fatal to species diversity. It also shows that claims to legitimate these assaults based on the triumph of Buckthorn are unfounded and unjust.
Dense Blazing Star, (threatened Wildflower), discovered on proposed Riverfront lands. Photo: Daniel Nardone
Original article was written by Dr. John Bacher, Chair and Greenbelt Campaign leader at Sierra Club Ontario.