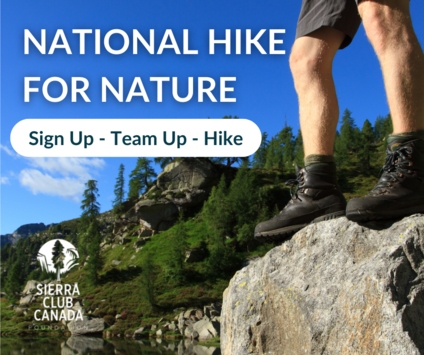 Our National Hike for Nature is coming up at the beginning of July.
This is Sierra Club Canada Foundation's annual peer-to-peer fundraiser where you can raise funds for our Ontario Chapter, just by taking a hike!
The Ontario chaper will be hosting hikes in Pickering and Toronto! Interested in joining or want to learn more? Let us know at ontario[at]sierraclub.ca
Simply pick a date to "take a hike" - on a mountain, on a favoured walking trail, indoors with your walking group, or even around your neighbourhood - just make some time to hike, walk, wheel or stroll and help raise funds for Canada's only national grassroots organization fighting every day to protect our beautiful planet.
Your fundraising efforts can help support our chapter's work!
Learn more here: https://www.sierraclub.ca/hiking-hero